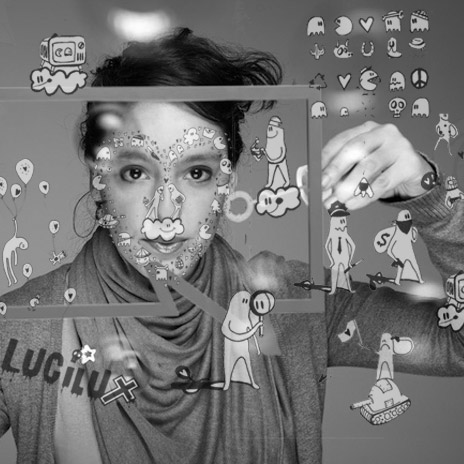 Carolina Cruz | LUCILUX
Carolina Cruz is an art director, animator and illustrator based in Berlin.
Born in Santiago de Chile, she played too much Atari when she was young. After her studies of interior design in Chile, she completed her degree in industrial and textile design at the renown School of Arts Escola Massana in Barcelona, before moving to Berlin in 2005. Nowadays, she believes, all the TV and video games have left many traces in her work. She currently studies Animation Direction (MA) at the Film University Konrad Wolf in Postdam Babelsberg.
Further Filmography/Festivals/Galleries:
Internationalen Kurzfilmwoche Regensburg Germany XXIV Edition  14-21 März 2018
15º Bogotá Short Film Festival – BOGOSHORTS del 5 al 12 de diciembre de 2017.
KLIK Animacion Film Festival Amsterdam X Edition at the EYE FILMMUSEUM 17 -22 October 2017
Soria International Short Film Festival XIX edición 2017 12th to 26th November 2017
Anifilm festival Trebon, CZ. May 2016
Cine Mexicano en Uruguay2014
Urban Spree,Berlin 2015
Neurotitan,Berlin 2014
Istanbul Animation Film Festival2013
Eksjjö Animation Film Festival,SWE 2013
Docs Barcelona 2013
Docs DF2013 (Mèxico) 2013
Work for:
Watch the Med, Alarm phone, Nama facility , Aidos, Ponti, MTV Brasil, SonyMusic/Fourmusic, Die Johanitter, Museo de la Memoria Santiago de Chile, Kinemathek Filmuseum Berlin, Kulturprojekte Berlin GmbH, Council of Europe, Gesop, RNW /"Love Matters", EASY Does it, OM studios.
I'm open to collaborate with other artists and am available for commissioned work.  I'm love to work with and for non-profits, NGOs or better causes,   even if there are only smaller budgets.
Don't hesitate to contact me: info@lucilux.de